Mission of IonTelecom
The mission of the IonTelecom business unit at IonIdea is to deliver innovations and competitive advantages to the telecommunications industry.
Who do we serve?
We enable Telecom ICT Solutions Providers to deliver high-value innovative products, solutions and services to their customers in the BSS and OSS space. The size of our customers in this segment varies from startups to well-established global majors.
We help Telecom Operators minimize OPEX and reduce CAPEX in their Marketing, Sales and Service Delivery functions. Our solutions and services enable them to run their businesses smartly, efficiently and more profitably.
In both these segments, our constant endeavor is to help them enhance their competitive edge.
What do we do?
For Telecom ICT Solutions Providers, we offer a range of services, including product ideation, design, development, maintenance, integration and support.
We help the Telecom Operators greatly improve their operational efficiency and customer experience. We leverage on our expertise in Big Data Analytics and Telecom to identify opportunities for Excellence. We bring to bear our expertise in Operational Effectiveness and Process Reengineering to design processes that enable Excellence. Finally we bring together our skills in Enterprise Software, Cloud, and Mobility to engineer software solutions that deliver Excellence.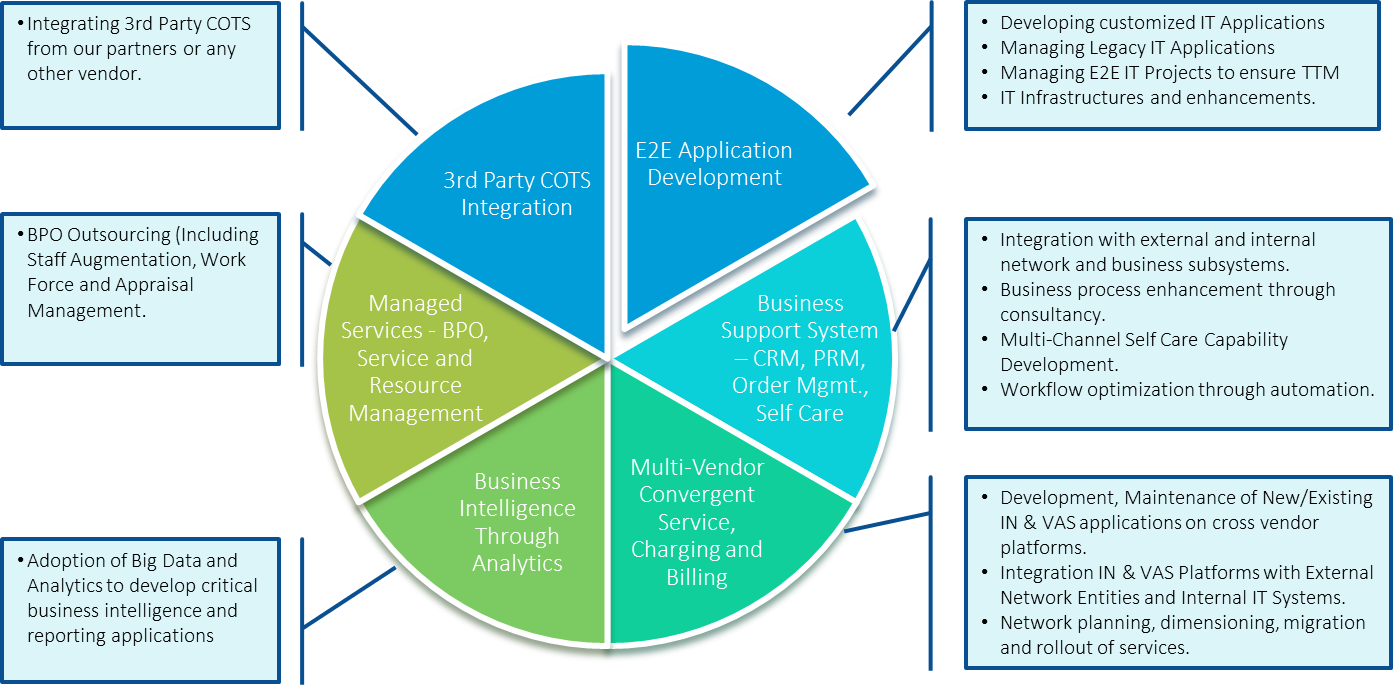 Value we Deliver
Enhanced Competitiveness is what we ultimately deliver as a value to Telecom Operators. Depending upon what project we engage on, this could be through increased efficiencies and cost-reductions in business operations, reduced costs in software engineering and IT management, increased customer retention, and increased ARPU.
We also deliver Enhanced Competitiveness to Telecom ICT Solutions Providers. We help them bring new products to market quickly and more cost-effectively.
Here are some example of the value we deliver:
Is your network complex and cluttered? Maintenance and commissioning a nightmare?
Let us simplfy it for you, by integrating Software Defined Network (SDN) with your current network infrastructure and automating processes in a few clicks.
Is network scalability a problem? Is it a big drain on your CAPEX and OPEX?
Let us help you make it cost effective and elastic through network infrastructure virtualization, the very essence of NFV.
Finding it challenging to deliver a unified and connected experience to your customers in an IOT world?
Let us help you profit from new opportunities through M2M implementations.
Interested in real-time feedback on your customer sentiment? Want to know what they are saying about you so that you can make better business decisions?
Let us help you analyze and make sense of the wealth of customer feedback data that is available on your systems as well as on the Internet.
Want to always be on top of operational efficiency improvement opportunities?
Let us apply our Data Science and Big Data Analytics practices to help you identify operational inefficiencies and improve your network, operations and services delivery performance.
Engage Excellence
By engaging IonIdea, you are Engaging Excellence. With IonIdea you:
Gain access to highly experienced telecom professionals, who can be your advisors, consultants and heavy-liters for implementing your network and software development, integration, deployment, migration and service rollout strategies.
Leverage our vast experience with global vendor platforms including Alcatel-Lucent, Ericsson, Huawei, Nokia and Siemens, to quickly integrate your legacy IN and VAS platforms, develop newer IN and VAS applications, perform Independent Verification and Validation.
Can overcome challenges and successfully deploy SDN and M2M Platforms
Will identify opportunities for increased operational efficiency, and implement process redesign, automation and integration solutions to reduce ongoing operational costs.
Can implement Managed Services to significantly reduce costs on non-core business functions.
Get 24x7 L1/L2/L3 support to improve TTM and Customer Satisfaction.
Can quickly and cost-effectively integrate 3rd Party COTS.
Will cut your time-to-market as well as product development costs by over 50% by using our agile methodologies and global talent pool.
You get a partner who will be your high tech go to resource for quick adoption of technologies like Big Data and Analytics, Cloud Infrastructure and Virtualization.
Why IonIdea?
Because you can count on our expertise to help you and you can also count on our commitment to your success.
We have a proven track record of over a decade of successfully working with Telecom Operators and Telecom ICT Solutions Providers. Our relationships with customers in these segments have all been long term, a testament to the excellence and value we deliver.
Our expertise in Big Data, Cloud, Mobility, M2M and SDN are available to you.